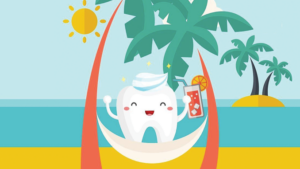 DON'T LET A DENTAL EMERGENCY RUIN YOUR VACATION
Summertime is halfway done, and school starts soon! I am sure you have planned fun in the sun or other activities, but no one expects a dental emergency. However, if you know what to do in the event of a dental accident, you can still salvage your vacation.
If you have been putting off treatment, schedule before your fun begins to avoid a toothache! 
FIRST AID & WHAT TO AVOID FOR COMMON EMERGENCIES
When an accident happens, staying calm is key. The first step, especially for broken or missing teeth, is often simple first aid. Gargling warm salt water and flossing out painful food particles can improve a toothache. Ease the pain and swelling from breaking, chipping, or knocking out a tooth can with a cold compress. Oral over the counter pain medication can help with pain as well.
Avoid the old remedy of putting an aspirin directly on the tooth as it irritates the gums. The temptation to put off seeing the dentist until you return home but leaving a broken or chipped tooth may cause more damage or pain. Knocking a tooth out is also serious.
Tooth be told, your dental routine shouldn't get a vacation.
Regardless, call us as soon as you return from your fun to make an appointment!   574-272-4441